Are you ready for back to school? Are you ready to take on new challenges?
Participate in Phở Queen's cooking class series at the local public libraries in Central Florida: Orange County Library System (OCLS), Maitland, Winter Park, and others. It is FREE! Have a great time, learn new food, learn new Vietnamese words, and make new friends.
We have been demonstrating since 2006.
Write in the dates and SAVE them on your calendar NOW!
OR better yet, bring the demonstrations to the comfort of your home.
Invite your friends and families (minimum 5 to 6 participants). We will make
it simple, easy, and fun. Click and visit Consultation for more information, call Pho Queen 407-951-8226 or email ha@TastyPhoQueen.com to book a demo at your home or business.
Have fun eating healthy!
Phở Queen
2022
Welcome back to live demonstrations! OCLS present "In-person cuisine" May 20, 2022 from noon to 1pm at the main downtown Orange County library. We are making springrolls / summer rolls known as Gỏi cuốn. Excited to see everyone again –
https://attend.ocls.info/event/6342154.
————

OCLS proudly present a virtual event with Cuisine Corner on April 27, 2022 at 6:30pm – Instant Pot Phở. It is a shorter way of making Phở. Tune in to our FB or Youtube.com LIVE channels:
2021
OCLS present a virtual event with Cuisine Corner on August 25, 2021 at 4pm – Vietnamese Pizza.
Check out on how to make our cute little Piggy Steamed Buns recorded LIVE online with OCLS on May 12, 2021:

2020
Most of the hands-on
demonstrations
at the public libraries have been canceled because of COVID19.
However, the show must go on — Thanks to the sponsorship of OCLS, we had our very first online cooking class on May 5, 2020 – "How to Make Vietnamese Porridge using Instant Pot" LIVE on Facebook and Youtube.
Below is the recorded online FB LIVE for Vietnamese Porridge using Instant Pot:
Below is the recorded online LIVE youtube.com link for Rainbow Seafood Stir Fry. Our second LIVE online class on July 8, 2020:

Below is recorded online LIVE youtube.com link for How to Make Vietnamese Egg Coffee on December 9, 2020:

Maitland Public Library
501S. Maitland
Maitland, FL 32751

RSVP: 407-647-7700
January 26, 2020 (Sunday) @ 3pm Celebrate the Year of the Rat 2020 with Phở Queen – Seven Course Beef (Thịt Bò Bảy Món)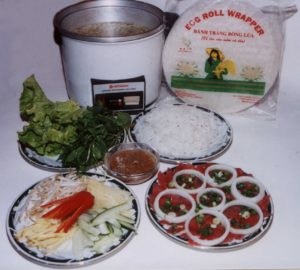 May 10, 2020 (Sunday) @ 3pm, celebrating Asian South Pacific Month of May with Boba Tea. CANCELED
September 27, 2020 (Sunday) @ 3pm celebrating the Harvest Moon Festival – CANCELLED
November 8, 2020 (Sunday) @ 3pm celebrating pre-Thanksgiving – Cancelled